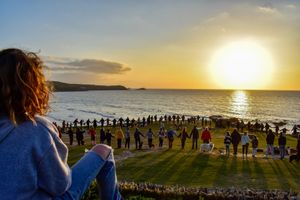 Advertise on The English 909 Radio
✅ The English 909 Radio reaches 22,000-25,000 awakened weekly listeners
✅ The English 909 Radio is a unique station owned by Freedom Fighting listeners
✅ 95% of listeners are UK based, 55% female / 45% Male, average listening time for each listening session 48 minutes.
✅ We are available Online, App, Alexa speakers & across 17 radio streaming apps
✅ Our music is designed to be energetic, powerful and 'feel good'
✅ We are 100% independent, non-regulated & do not associate with other Freedom brands
✅ The English 909 is 97% music, we don't do news, propaganda or cause fear.
✅ Target age range of listeners is 25-55 years old
✅  Average listener income £34,000 
✅  The station broadcasts 24/7 every day of the year
We carefully choose, research and painstakingly craft the mix of music we play. We bring you the personalities that entertain, the contests that excite and the community info that matter, to cultivate the most enjoyable listening experience for Freedom Fighters.
Prices start from just £99 (all inclusive) for awakened businesses.
Listen below to previous and current commercials.
GET IN TOUCH WITH US TODAY!